Utopian Hours

' second edition sees the international city making festival change location. Three days of talks, debates and exhibitions within the new headquarters of Q35. With over two-thousand participants, the 2018 edition amplifies the debate on the future of urban living, calling on

forty international experts

.
Between 19th and 21st October the most visionary thinkers and place makers from Paris, Detroit, New York, Helsinki, Oslo, Berlin, Copenhagen, Lisbon, Prague —and even from Arcosanti, the visionary city built in Arizona by

Torinese

architect Paolo Soleri— give their contribution to a positive narrative on the future of cities and their unexpressed potential.
Friday 19th October

. The opening of the 2018 edition of the festival is held by

Luca Ballarini

, founder of Torino Stratosferica, and

Giacomo Biragh

i, co-director of Utopian Hours. They set the stage for three city making dedicated days with a speech that underlines the power and centrality of human imagination.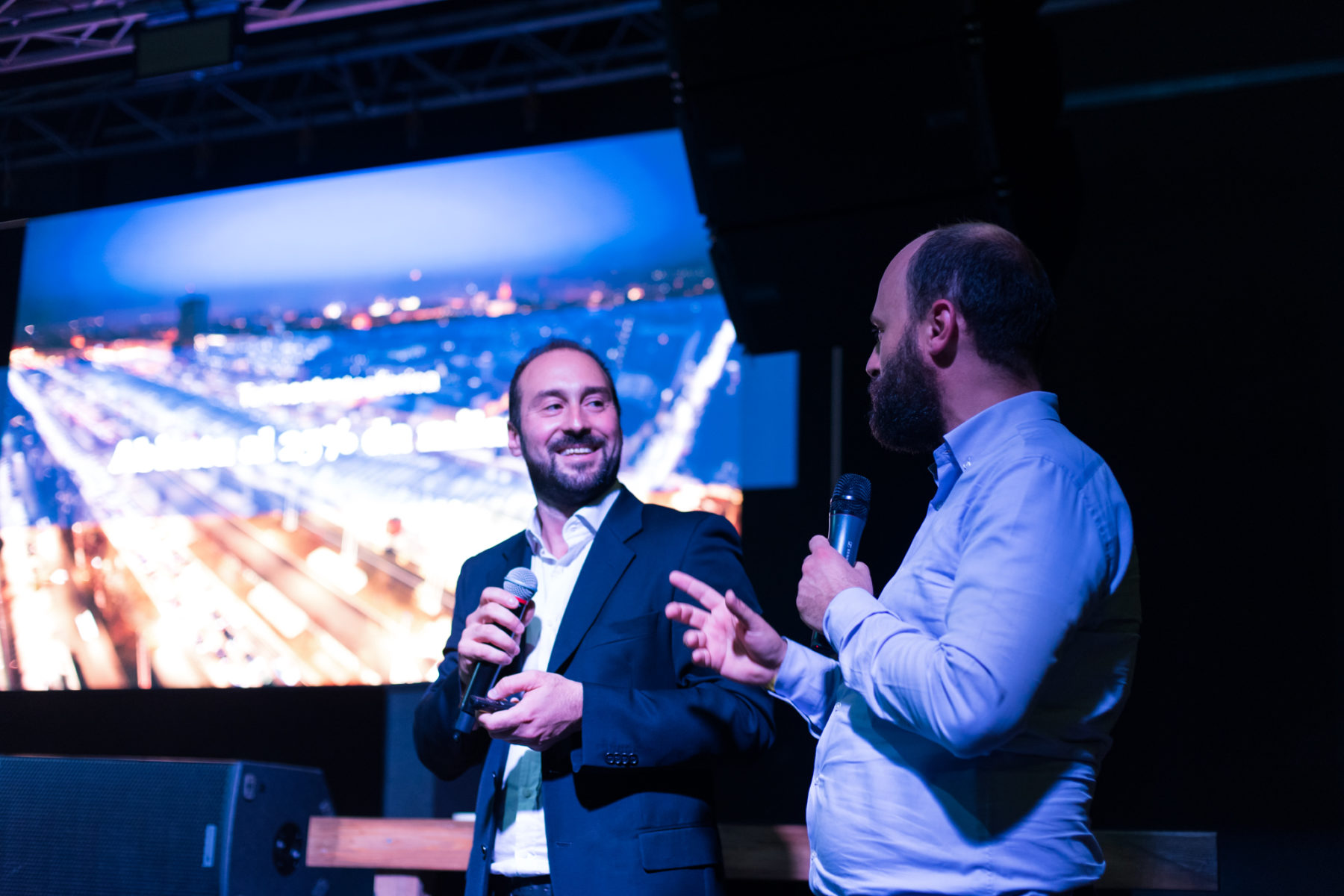 In its second edition Utopian Hours maintains the

Visiting Urban Explorer

format, experts from all over the world invited to Torino to freely explore the city and share their impressions, ideas and suggestions. The first "VUE" of 2018 is

Valerie Kuster

, the hand behind Op Het Dak, a restaurant with a rooftop vegetable garden in Rotterdam. She helped us imagine a Torino in which nature, food and people merge to enhance the livability of a city with great potential. She left us with a moving note on Torino : "nowhere else have I felt so instantly welcome as I did here".
From the rooftops of Rotterdam to the vibrant sceneries of Manifesto Market: a forgotten corner of Prague transformed by

Martin Barry

(also behind the urban development festival reSITE) in a gastronomical market and meeting place with over 3500 daily users. A lesson on how to intervene on locations merging architecture, culture and innovation.
Utopian Hours is also the time to imagine new prospects and possibilities for our city: with

Robin Dolch

, co-producer of the Cities of Tomorrow festival, Torino shoots for the stars. A comparison with the city that anticipates changes, that has become the image of today's urban life: a snapshot of New York as an invitation to our host city to elevate itself at the level of the greatest cities.
Saturday 20th October

. Budget installations, placemaking projects, road signs: a journey through the creativity infused locations of Montreal. The second day of Utopian Hours 2018 starts off with

Jean Beaudoin

—architect and urban designer— who led us through innovative approaches to community and changes generating processes, taking one of the most livable North American cities as a case study. An example: the one kilometre long red promenade that granted community life space during the transformation of an area of the city.
Other examples of cutting-edge and participated city making projects in Europe: the precious experience of

Urban Catalyst

, a studio active on the German territory, which has been working on different scales since 2005, from designing new streets, to animating Bern's squares, all the way to the strategic plan for a region.

Cordelia Polinna

and

Luca Mulé

speak of their collaborative method, innovative and engaging, that they used in Berlin to make their urban "acupuncture" projects possible.
The second Visiting Urban Explorer of 2018 is

Timo Hämäläinen

, Finnish geographer, researcher and blogger: he takes a tour through the locations inherited from the Winter Olympics, between great architecture and improvised spaces. From his tour of the Lingotto neighbourhood, Hämäläinen developed ideas on how to re-activate empty spaces.
One of the most intense moments follows. The lab-city

Arcosanti

, founded in the '70s by the visionary architect Paolo Soleri, is still active today: a "

Torinese

" utopia turned into reality in the United States.

Jeff Stein

, executive director of the project, shares the inspiring thoughts and social life of this

arcology

(merge of architecture and archeology) and its challenges. An illuminating talk, centered around the power of urban visions.
The last Visiting Urban Explorer of 2018 is

Federico Duarte

, Portughese design critic, writer and curator. Particularly fascinated by the antique locations of San Donato, Duarte shares two ideas for public life: Turin as a city of maintenance and as a post-Facebook city. An invitation to returning to public spaces, to meet and speak.
Concrete city utopias for the future are often related with water. In Helsinki urban innovation is activated thanks to a private-public collaboration: the result is a floating oasis in the gulf, with swimming pools and saunas, where swimming is possible all year round. The founder and entrepreneur of Töölö Urban,

Raoul Grünstein

, speaks of the details of one of his many enterprises that have combined public interest with private resources to generate innovative city-making projects.
The second day's evening sees the main event of Utopian Hours 2018. On stage the

bicycle urbanism

guru

Mikael Colville-Andersen

, amongst the most influential and engaging voices of the present day on the urban quality topic. The Canadian, based in Denmark, was in Torino to continue his personal quest: "

copenhagenize

" the world, which for him means exporting bicycle culture to other cities.
Sunday 21st October

. The final day of Utopian Hours 2018 begins with a lively debate on the most interesting placemaking cases in Italy: projects located in Ivrea, Terni and Milan are introduced by

Ilda Curti

.
Oslo's urban regeneration runs along the riverside. Akerselva's banks have seen the rise of Vulkan, a flourishing creative-residential neighbourhood that has radically transformed an ex-industrial area.

Sverre Landmark

, from Aspelin Ramm, entertains the last afternoon of Utopian Hours 2018 with a talk on the birth and development of a project that represents a successful model for the construction of truly sustainable neighbourhoods.
A panel for the hosting city follows, with some of the most enterprising

Torinesi

: ideas, visions and proposals for a truly stratospheric Torino. Sharing their points of view are

Matteo Robiglio

(Homers),

Erika Mattarella

(Bagni Pubblici di via Agliè),

Adriano Marconetto

and

Maurizio Cilli

.
The stage then sees

Aaron Foley

, Chief Storyteller of

Detroit

, who talks about the incredible intuition by the city's administration: Michigan's main urban conglomerate, first and only at the time, establishes a professional role in charge of giving voice to the citizen's stories and creating a narrative able to detach the city from its stereotypes. First ever appearance in Europe, the team of writers and video-makers explained to the festival's audience how to represent a city through images and unpublished stories.
The final guest of Utopian Hours 2018 is

Jean-Sebastien Lebreton

, one of the minds behind

Faire Paris

, a programme in support of innovative city projects developed by Paris' Pavillon de l'Arsenal. Lebreton presents some of these initiatives, highlighting different solutions for the environment and the re-use of resources, hospitality and living, communication.
The exhibitions

. Amongst the contents of Utopian Hours, every year, original and contemporary exhibitions that display urban trends and phenomenons. Practical lessons and stratospheric visions, global phenomenons and single projects, their goal is inspiring everyone to acknowledge the power of ideas for a city.
With the exhibition "

C'è vita lungo i fiumi"

(

There's life along the rivers

), Torino Stratosferica invites the viewer on a journey through pictures, illustrations and proposals for imagining new shapes and functions for the city's four rivers.
The previous edition saw a city branding dedicated exhibition, with potential new logos for Torino Stratosferica drawn up by several graphic studios, so in 2018 the festival moved its attention to the idea of flag: what should it represent? How do you design the flag of a stratospheric location? Five prominent Italian graphic studios gave life to the

5 bandiere per Torino Stratosferica

(

5 flags for Torino Stratosferica

) exhibition. Projects by: Tomo Tomo (Milan), Artiva design (Genova), Volta Studio (Venice), Studio MUT (Bolzano), Muttnik (Florence).
Within the Q35 location, the updated version of

Visioni da Torino Stratosferica

(

Visions by Torino Stratosferica

) exhibition: Ten new renderings are added by ten

Torinesi

architectural firms that have interpreted and given shape to ideas, provocations and utopias emerged from Torino Stratosferica's visioning sessions. Nineteen spectacular images representing a possible future for Torino.
Torino Stratosferica also displays two of the most appreciated exhibitions from 2017:

Images of Utopia

, curated by Torino Stratosferica and Darran Anderson and

Night time is the right time

— two collections of images and words that highlight urban imagination and the opportunities that the urban night time offers.